Summary and phase results
Summary
During the first phase of the project it has been elaborated schemes of access to the laboratory infrastructure. These schemes have been tested with users from Romania and abroad. Read More.
Results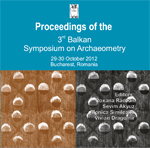 Published papers on the scientific and informational infrastructure (presentation, upgrade, maintenance):
Proceedings of the 3rd Balkan Symposium on Archaeometry, 29-30 October 2012, Bucharest, Romania - Editors: R.Radvan, S. Akyuz, M.Simileanu, V. Dragomir, Ed. Integra Natura Et Omnia - INOE, 2012, ISBN: 13 978-973-88109-9-0
Download the proceedings here.

Partnerships and end-user clusters:
Fayoum University, Faculty of Archaeology, Fayoum, Egypt:
Institute of Solid State Physics, Bulgarian Academy of Sciences, Sofia, Bulgaria;
University of Vienna, Institute of Physics Chemistry, Vienna, Austria: In-situ laser diagnostics in conservation science and archaeology;
Heritage Protection Association;
Politehnica University Bucharest- Faculty of Applied Chemistry & Material Science
Politehnica Universty Bucharest - Faculty of Mechanic Engineering & Mecatronics
National Network of Museums in Romania
Website: 
http://certo.inoe.ro/watch/


Registered innovation patent at O.S.I.M.
Optoelectronic device and method for the measuring and qualitative analyzing of interior surfaces of archaeological and art objects with the LIF technique
A/00653/13.09.2012


Published Scientific Paper:
Identification of porcelain pigments by Laser Induced Breakdown Spectroscopy, H. Sadek, M. Simileanu, R. Radvan, R. Goumaa - Journal of Optoelectronics and Advanced Materials, Vol. 14 Iss. 9-10, 2012, pag 858-862
E-newsletter no.1
E-newsletter no.2
Expected results
Papers on the scientific and informational infrastructure
Partnerships and end-user clusters
Website
Innovation patent
Scientific paper
Newsletter no.1 and no. 2
Scientific and administrative report